Quirky fashion label Nasty Gal has collaborated with the queen of grunge & my personal style icon, Courtney Love. Nasty Gal's founder, Sophia Amoruso states "Nasty Gal is not a brand for wallflowers. Courtney is provocative, she's uninhibited. I would say we're a provocative brand."
The collection is called "Love, Courtney" and is made up of eighteen pieces, inspired by Courtney's kinderwhore style back in the 90's. Courtney Love was apart of my favourite band of all time, Hole. Her aesthetic had always intrigued me and she has been one of my biggest style inspirations for many years now. I can't tell you how many Peter Pan collared dresses I own, inspired by Courtney's style. For me, this collection is a dream come true!
The collection only came out on the 14th of January and many of the items are already sold out.
One of the items that has sold out *cries* is the tiara hair band, which I absolutely adore!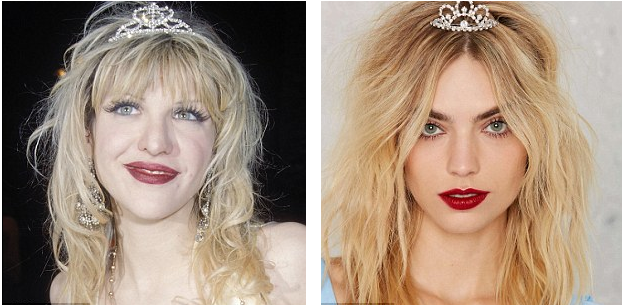 "The starting point was lingerie meets real world' Courtney explained in an interview on Nasty Gal's site. 'We looked at some of my rock-star '90s stuff and redid that in a more contemporary way." Courtney explained that they went through her closet and pulled out some really special pieces that she had saved. "I always take vintage and re-adapt it, so I doodled on the original sketches, adding details like handcrafted, romantic, three-dimensional accents."
The collection consists of some of Love's signature pieces such as baby doll dresses, silk maxi gowns, strappy lingerie, and sweeping lace kimonos. The campaign model wears ripped fishnets, blood red lipstick and has her hair styled in Courtney's iconic, messy bed-head look.
There is no doubt that Courtney Love is a style icon. With this Nasty Gal collaboration, posing for YSL and Jeffree Star naming some of his new lip products after some of Love's biggest hits, it's safe to say she's just as influential in the fashion world now, as she was back in the 90's.
Her music and style have made me who I am today. I used to listen to Live Through This on repeat in my bedroom, running my fingers over the album slip, reading the lyric sheets and desperately wanting to dress like Courtney. Her style and talent has lasted through the years and I still continue to look to her for style inspiration. She most certainly is the girl with the most cake. ♥
You can check out (and sob over) this iconic collection over at NastyGal.com