My lovely friend Kiera Rose shared a vlog of our day trip to London 🙂

As a person with stretched ears (12mm to be exact!) I find it difficult to find jewellery that isn't plain or boring. Sometimes you want to look nice and fancy and it can be hard to find jewellery that works well with stretched ears and dressy attire. A friend of mine runs an online jewellery shop called Little Doe, which provides a selection of beautiful jewellery for alternative ladies!
Little Doe also provides jewelry for pierced ears and non-pierced ears. Woohoo! Kiera Rose, the owner of the site, kindly sent me two sets of plugs as a little gift. I was so chuffed when I opened the package! I've been wearing the same set of tunnels for longer than I would like to admit and was so excited to finally have some fancy plugs to call my own. She sent me the Gryffindor House Plugs and a custom made pair of mint rose earrings with delicate pink tear drops! SO PRETTY!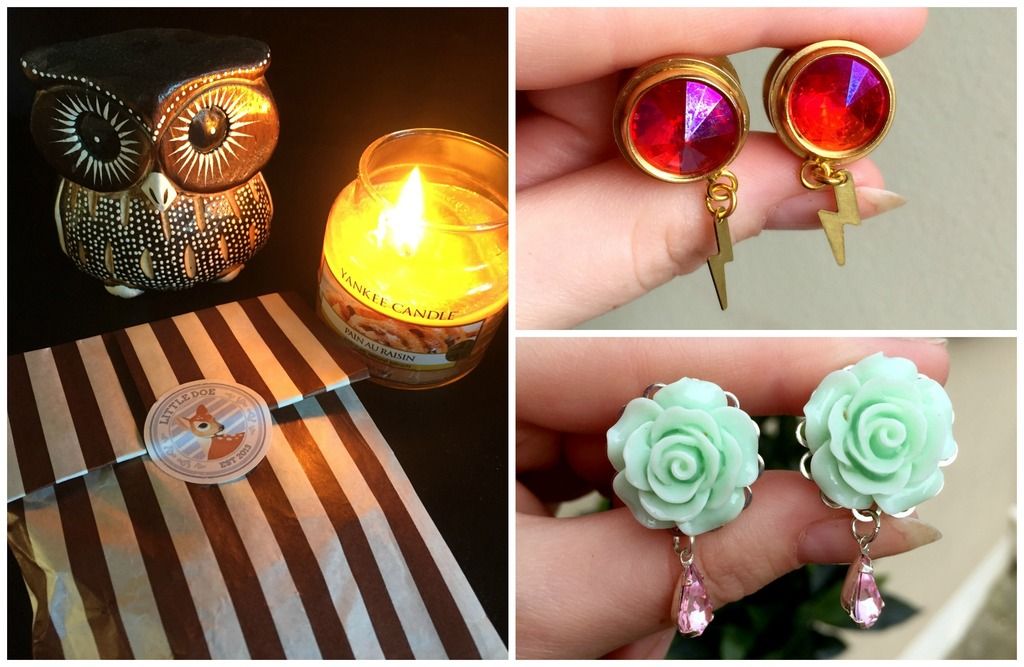 The plugs came in a cute striped paper bag and inside contained a little sweet treat and an individually packaged teabag of green tea! The plugs themselves are so beautiful! Before putting them on, I took off my old jewellery and made sure my lobes were clean. Then I sterilized the new plugs with a diluted antibacterial solution (make sure to clean any new body jewellery you buy) and dried them off with some tissue. Once they had dried, I was ready to try them on!
I tried on the Gryffindor House Plugs first and really loved how the replica Philosopher's Stone reflected different colours of red, purple and blue as it glistened in the light. I posted a video on my instagram page to show the full effect, check it out, it's maaaagical! I wore these plugs for the rest of the day and got lots of compliments on them. I also really love the little lightening bolts that dangle from the plugs. These plugs are a must for any hardcore Harry Potter fans out there.
The Mint Rose plugs are so beautiful, they are really feminine and I love the pastel pink tear drops that dangle from the roses. I can't wait to wear these plugs on a night out or to an event. I feel like they'd be perfect to wear to formal occasions as well, such as like weddings. Whenever I wear these plugs I feel really done up and fancy! I really enjoy pastel colours and think these plugs are perfect for spring and summer.
These plugs are well made and absolutely beautiful! If you would like to check out what Little Doe has to offer, you can check out the online store or follow Little Doe on instagram for updates!
Kiera Rose is a YouTuber from the UK, who has a wonderful sense of style and happens to be a good friend of mine! I really enjoy her casual style and the hints of girly glamour she adds to each outfit. Kiera makes videos documenting her life, cruelty free beauty and speaks from the heart about many topics such as mental health and many other struggles people face in their daily lives.
I love how her style reflects her lifestyle and personality! She wears clothes are fashionable yet comfortable and she knows how to accessorize her looks to add an element of glamour and style to everyday looks. She has her own online shop named Little Doe, where she sells beautiful necklaces, plugs and tunnels. You can sometimes see Kiera wearing some of her own designs in her videos but she also wears a pair of simple black tunnels that go perfectly with every outfit.
Kiera is a fan of comfy flannel shirts and loose fitted vest tops, she usually pairs simple key items of clothing with pretty accessories to create a really nice dressy casual look. To transform a day time look to a night time look, she sometimes will pair a statement necklace with a vest top, along with a faux leather jacket to create a a stylish yet wearable look. Kiera gets a lot of inspiration from nature, so her preferred colour palettes for clothing usually include a lot of earthy tones. She also loves clothing with pretty patterns inspired by nature and animals such as deer, owls & bee's.
Make-up wise Kiera always keeps it fresh and simple. On days when she doesn't want to wear much makeup she applies Superdrug CC Cream in the lightest shade on days when she doesn't want to wear much makeup, she then uses Anastasia Beverly Hills DipBrow Pomade to fill in her brows. To accentuate her lashes she curls them with an eyelash curler and applies Gosh Double Precision Mascara Black and uses the Sleek Face Form Palette to add some colour to her cheeks!
You can check Kiera's cruelty free makeup tutorials and beauty tips on her YouTube channel!
I think it is safe to say that Kiera's favourite beauty product of all time is Coconut Oil! Kiera uses it as a moisturiser as well as an effective makeup remover. You can buy Coconut Oil in all good food shops, I suggest buying an organic based coconut oil as it more natural to use on your skin. Kiera Rose is cruelty free vlogger, so all the products she uses have been sourced ethically, she loves cruelty free companies like Lush, Dr. Organic and Barry M.