Anyone who has a twitter account was bound to see the crazy tweets Kim Kardashian was posted the other day, as well as her naked selfies. As we all know, Kim is not shy about her body and has no problem sharing her naked flesh with the entire world via her social media pages.
Not long after she posted the sultry images, Kim was met with praise and criticism from her fans and the celebrity world alike. Bette Midler and Chloe Grace Moretz tweeted their dismay towards the selfies and Kim fired back with some sassy tweets in response.
Honestly, I thought Kanye had taken over her account because the tweets were so out of character for Kim and it was clear that she gave zero fucks that day.
And I guess the real question is, should she care?!
Whenever Kim posts a naked or raunchy selfie, everyone freaks the hell out over it and I don't know why. We have seen Kim naked before and we have seen her naked plenty. It isn't anything new. In fact, if we are being brutally honest it is exactly what we expect from Kim Kardashian.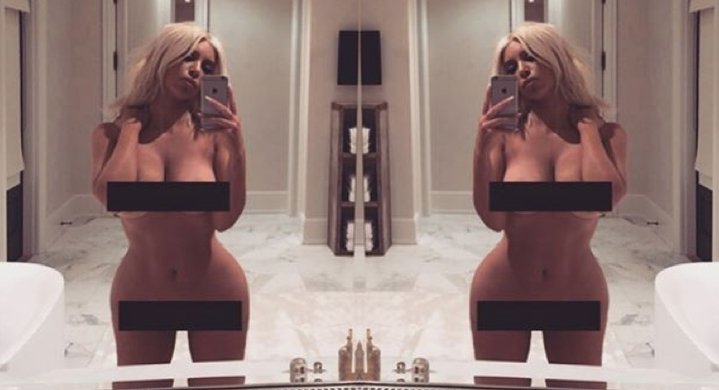 Many will argue that Kim is a 35 year old mother of two, who is successful and content with her self, so why does she feel the need to share her naked body with the world all the time? As it was International Women's Day on the day she posted the selfie, was she just trying to feel liberated as a woman? I honestly don't think there is a right or wrong answer to any of these questions. It's all subjective.
Lets be honest, Kim Kardashian sells sex. She sells beauty, glamour and a lifestyle that many of us could only dream of living. Kim gained international fame from a sex tape she did thirteen years ago and has the most famous ass in the world. No, not Kanye. I mean her derriere! (see what I did there?) Some of us may not agree with Kim posting naked selfies or even like her as a person but whether we like it or not, this kind of stuff is her bread and butter. It's what she does.
Kim fired back at haters by writing a statement on her website saying "It's 2016. The body-shaming and slut-shaming—it's like, enough is enough. I will not live my life dictated by the issues you have with my sexuality. You be you and let me be me."
Is Kim Kardashian really liberated by posting naked selfies or is she compelled to do so?
No matter what way you look at it, it's Kim's body and it is Kim's decision to post photos of herself online. Despite what many people would like to think, Kim Kardashian is no fool. She knows what generates publicity and what better way to generate publicity than to start controversy? At the end of the day this sort of thing fuels her career and puts food on the table, money in the bank and keeps her name in circulation, thus promoting her brand.
As the famous quote goes 'there's no such thing as bad publicity' and Kim knows it.
Tweet me your thoughts and opinions @EllieJayden or comment on Facebook